There are many types of human coronaviruses including some that commonly cause mild upper-respiratory tract illnesses. COVID-19 is a new disease, caused by a novel (or new) coronavirus not previously seen in humans. COVID-19 was identified as the cause of an outbreak of respiratory illness first detected in Wuhan, China, that has spread around the world, including the United States and all 50 states.
How to Protect Yourself and Others
We strongly recommend continuing social distancing, stay at home procedures and other safety measures which include:
Staying home as much as possible,
Calling to check on family, neighbors, and older adults instead of visiting,
Checking with your provider about telehealth options if you feel ill,
Remember to continue using proper hand hygiene,
Cover your nose and mouth with a tissue or sleeve when sneezing or coughing.
Most importantly stay home if you are sick! Avoid the Emergency Department and other places you seek healthcare if you are not severely ill, unless your doctor advises otherwise. Stay home and keep healthcare access available for others with more severe illness.
If you have a respiratory illness, stay home for 7 days after your symptoms started and for 3 days after your fever has stopped without the use of fever reducing drugs, and your cough or sore throat symptoms have improved (whichever is longer).
When you should consult with your doctor:
Fever, cough, shortness of breath or other cold or flu like symptoms and do not feel better after three to four days. Use telephone, text, telemedicine or a patient portal to reach out rather than going to your doctor in person if possible.
You are an older adult or have chronic health conditions of concern (heart disease, diabetes, lung disease) and are exhibiting mild symptoms.
Note: You and your provider will decide if you need to come to medical care. You usually do not need to be tested unless you are admitted to the hospital.
Important notes about getting tested:
IDPH currently recommends against testing persons with mild illness who can be safely managed at home. The recommendation is to self-quarantine at home stay home for 7 days after your symptoms started and for 3 days after your fever has stopped without the use of fever reducing drugs, and your cough or sore throat symptoms have improved (whichever is longer).
This minimizes possible exposures to healthcare workers, patients and the public and reduce the demand for personal protective equipment.
If you think you have COVID 19 and your illness is mild, and you are not older or with an underlying health condition of concern, you do not need to see your doctor and you do not need to get tested. Getting tested will not change how your doctor will take care of you. If you do not feel better in three to four days, call your provider and discuss next steps.
Due to the limited capacity of testing Riverside Healthcare and AMITA St. Mary's will prioritize testing to those patients with severe acute lower respiratory illness or those who meet IDPH criteria for testing.
The Kankakee County Health Department is NOT currently testing for COVID-19.
Facemask Guidance
IDPH and The CDC recommends wearing cloth face coverings in public settings where other social distancing measures are difficult to maintain (e.g., grocery stores and pharmacies), especially in areas of significant community-based transmission.
CDC also advises the use of simple cloth face coverings to slow the spread of the virus and help people who may have the virus and do not know it from transmitting it to others. Cloth face coverings fashioned from household items or made at home from common materials at low cost can be used as an additional, voluntary public health measure.
Your cloth face covering should:
✔️ Reach above the nose, below the chin, and completely cover the mouth and nostrils
✔️ Fit snugly against the sides of the face
✔️ Be made of multiple layers of fabric that you can still breathe through
✔️ Be able to be laundered and machine dried without damaging the material or shape
Do not buy surgical masks to use as a face covering. Those are intended for healthcare workers and first responders. Many items you may already have in your home can be used to create face coverings.
Try creating a cloth face covering using bandanas, ski masks, washable napkins, or dish towels.
Facemask Tutorials
Guidance for the Community
For More Information
Secretary of State Executive Order
Illinois COVID-19 Test Results
Kankakee County Health Department Facebook Page
Kankakee County Press Releases
Daily COVID-19 Case Counts for Kankakee County (PDF)
Kankakee County COVID-19 Hotline 815-802-9311
| | |
| --- | --- |
| Confirmed Positive Cases in Illinos | Confirmed Positive Cases in Kankakee County |
| 117,455* | 1,157* |
| Deaths in Illinois | Deaths in Kankakee County |
| 5,270* | 55* |
| Recovered in Illinois | Recovered in Kankakee County |
| NA | 454* |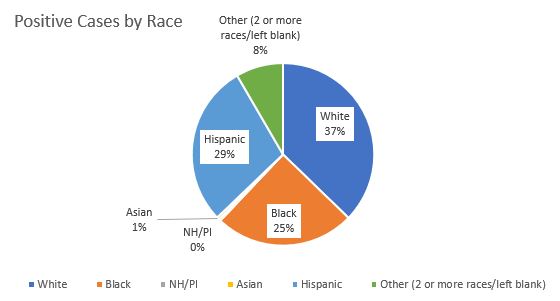 *Data as current as of 5.29.2020
**Positive Cases by Race will be updated on a weekly basis.
Tuberculosis (TB) is a contagious and potentially life-threatening disease transmitted through the air. While it can affect any part of the body (such as the brain, the kidneys or the spine), TB usually affects the lungs. When first infected with the TB germ, people usually do not feel sick or have any symptoms, which is latent TB infection. However, they may develop active TB disease in the future, so treating the infection is important. Tuberculosis once was the leading cause of death in the United States; today in Illinois, less than 30 deaths a year are attributed to tuberculosis and the number of cases in the state has fallen more than 40 percent in the past 10 years. There are between one and four cases of active TB in Kankakee County each year.
More information:
Mayo Clinic Tuberculosis Resource
Rabies is a deadly disease that can affect all mammals, and is found in all states, except Hawaii. People usually are exposed to the rabies virus when an infected animal bites them. Exposure may occur if the animal's saliva enters an open cut or mucous membrane (nose, mouth, eyes). The most common carrier of rabies in Illinois are bats. The presence of a bat in a home, or any contact with a bat, represents a possible hazard for rabies. Contact the Kankakee County Health Department immediately if there has been human or pet mammal exposure to a bat. Rabies vaccine may be needed.
What you can do to reduce your risk:
Do not feed, touch or adopt wild animals or stray dogs or cats.
Be sure dogs and cats are up-to-date on their rabies vaccinations.
Do not allow pets to roam free.
Do not attract wild animals to your home or yard. Store bird seed or other animal feed in containers with tight-fitting lids. Feed pets indoors. Make sure garbage cans are tightly capped. Board up any openings to your attic, basement, porch or garage. Cap chimneys with screens.
Encourage children to immediately tell an adult if they are bitten or scratched by an animal. Teach children not to approach or to touch any animal they do not know.
Report all animal bites to the Kankakee County Animal Control
Report an Animal Bite/ Bat exposure:
Kankakee County Health Department
Phone (815) 802-9400
Fax (815) 802-9321
Kankakee County Animal Control
Phone (815) 937-2949
Fax (815) 936-4641
Healthcare Providers:
All healthcare providers are required to report animal bites to the Kankakee County Animal Control.
Rabies information from the Center for Disease Control
pdf Rabies vaccination information sheet
pdf Dog or cat bite scratch decision tree flowchart
pdf Recommendations for bat related rabies incidents